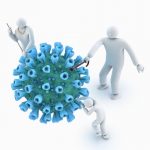 Corona explained. Just a few days ago, nobody could imagine what challenges we would have to face in the context of the corona pandemic. Politicians had to react quickly because a dangerously large part of the population, but also professional groups, did not adequately deal with this situation. In many telephone and video conferences called at short notice, we consulted with our partners from development houses, clinics and universities to find out which forms of modern and sustainable information are necessary in order to be able to briefly and concisely, but above all visually, inform everyone about their usual channels. In this way, a project was designed at short notice that can be realized in a very short time with a manageable budget. With convincing pictures and animations, it is shown how the virus can reach each of us, where it docks in the body and which situation-related measures are necessary so that it does not reach us. Since an infection only becomes noticeable days later, everyone has to behave as if they were infected so that unwittingly infected people do not constantly contaminate their surroundings without being noticed.
HERE is the link to download the Corona explained project
Please take a look at this project documentation. We would be happy if you not only support the project, but also use it in your own environment. You can also contribute to the success of the project by forwarding the link to this news to your networks.
HERE is the link to download the Corona explained project
Let's work together to make the coronavirus history soon.
Best regards – and stay healthy.
Your Johannes Atze
CAT PRODUCTION GmbH
Dipl. Computer scientist Johannes PG Atze
Kistlerhofstraße 168
81379 Munich
Tel: +49 89 74 89 62 – 17
Mobile: +49 172 830 2600